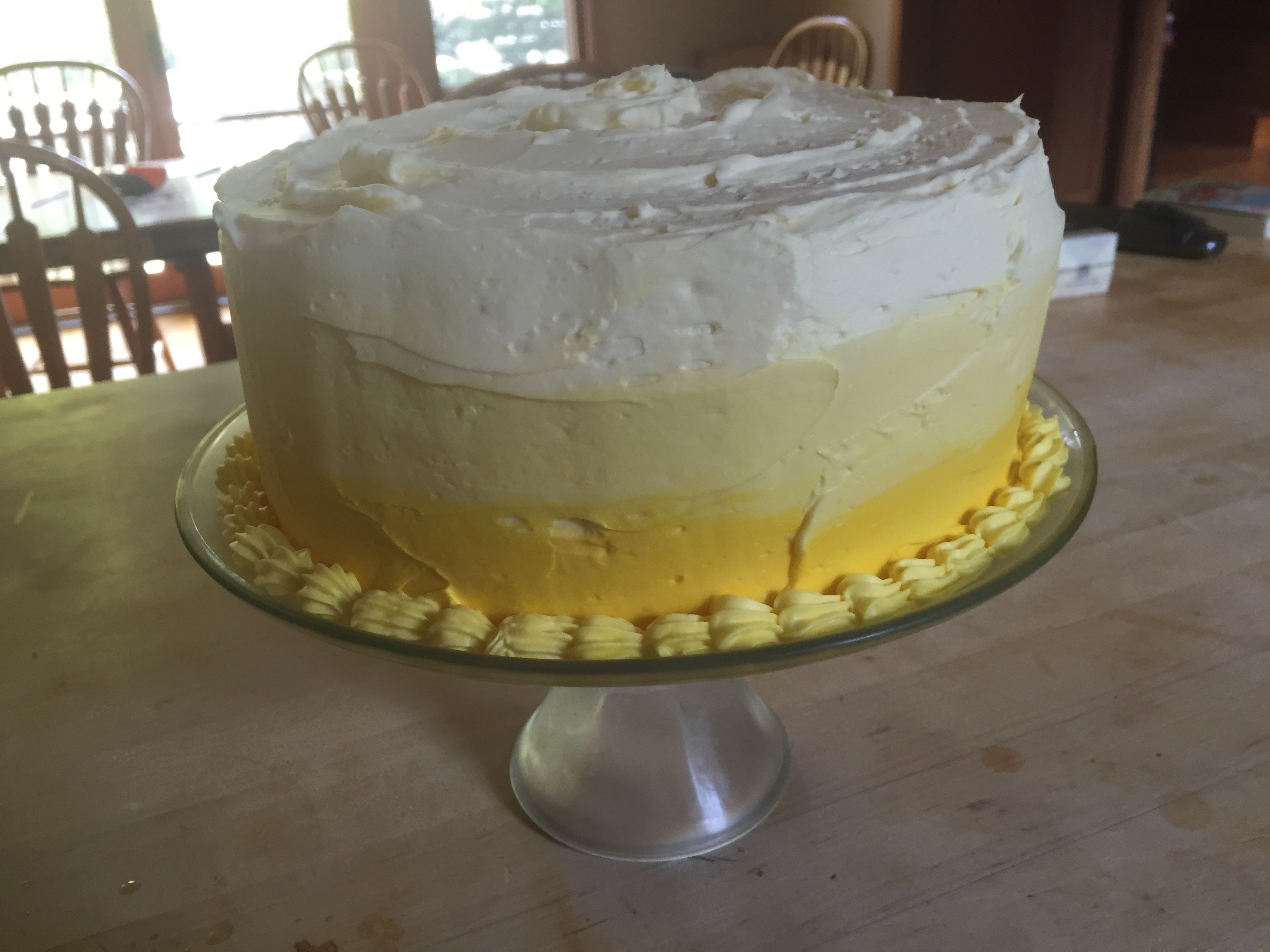 For my son's birthday, he requested a "lemon, lemon, lemon" cake, and I decided I'd try my hand at an ombre frosting. I took our favorite lemon cake, did a little research and put together what you see above. As I worked, I did a couple of time-lapse photos and put them on my FB wall. People asked for the recipe, so I decided to blog about it because that's easier in the long run.
I made the cake in three steps. Lemon Curd, Cake, and Frosting. I made the butter-cream a couple of days ahead, and I had to re-whip it to make it creamy after it was in the fridge for a couple of days. If I do this again, I'll make the filling ahead of time. Cook the cake a day ahead and make the butter-cream to use right away. It was sort of a pain to re-whip the frosting.
I assembled the cake and took a time-lapse of the process. I put one layer on the cardboard, made a ring of butter-cream around the outside edge and filled it with lemon curd. I added a second layer and repeated the filling before topping with the third layer and covering the entire thing with a crumb coat. That all went into the fridge until the frosting was firm.
Then, I mixed two colors of yellow frosting–about a cup of each color, and left the rest of the frosting a kind of creamy color. This time-lapse shows how I piped thick bands of the dark yellow on bottom, medium yellow in the middle and the white around the top. It looks really messy, but that's okay because the magic happens when you smooth the cake. This video is kind of funny because I put the cake plate on top of the turntable. I saw that in another video and thought it was clever, but it didn't really work all that well for me because I ended up with frosting on the bottom of the plate and ended cleaning up the look by piping shells around the base.
The cake recipe "Glazed Lemon Cake" in The Silver Palate Cookbook by Julee Rosso and Sheila Lukins. I made a couple of changes to make it a three-tiered cake. Sorry about the timing being vague, but you really do have to just check to make sure it's done. Start at 20 minutes and keep checking…
ingredients Makes 8-10 portions
• ½ pound ( 2 sticks) unsalted butter, softened
• 2 cups granulated sugar
• 3 eggs
• 3 cups unbleached all-purpose flour, sifted
• ½ teaspoon baking soda
• ½ teaspoon salt
• 1 cup buttermilk
• 2 tightly packed tablespoons grated lemon zest
• 2 tablespoons fresh lemon juice
• Lemon Icing (Recipe follows)
Steps
Preheat oven to 325f. Grease three cake pans. (Mine were 9 inch, but I'd do 8 next time for a taller cake)
Cream butter and sugar until light and fluffy. Beat in eggs, one at a time, blending well after each addition.
Sift together flour, baking soda and salt. Stir dry ingredients into egg mixture alternately with buttermilk, beginning and ending with dry ingredients. Add lemon zest and juice.
Pour batter into prepared pans. Set on the middle rack of the oven and bake about 20 minutes (more or less) until cake pulls away from the sides of the pan and a tester inserted in the center comes out clean.
Cool cake in the pan, set on a rack, for 10 minutes. Remove the cake from the pan and cool ten minutes in pans, then invert onto racks and allow to cool completely.
Lemon Curd Filling: I used this lemon curd recipe. It's pretty easy, but you can make any lemon curd, or to simplify your life you can buy jars of lemon curd. It's really not that hard to make, but buying a jar can save you time.
The frosting is Swiss Meringue Buttercream. If you click the link, you'll see a nice tutorial on the whole process.