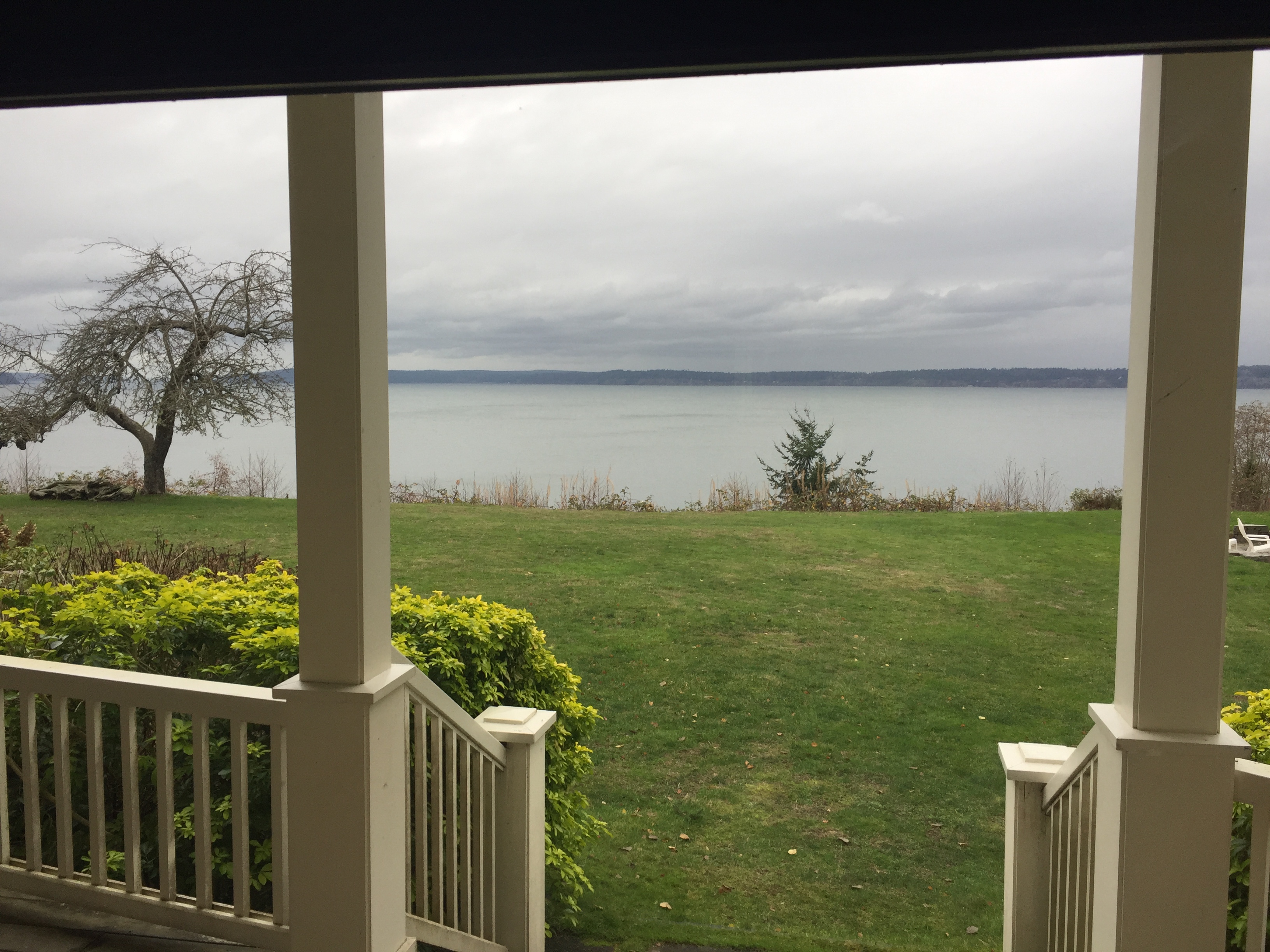 It's a Friday morning as I write this. My writing group has rented the most amazing house on Whidbey Island for a weekend retreat.  "Marty's Place" is a restored 1909 farmhouse right above the water with a most distracting view. There are five bedrooms, a TV room with surround sound, a living room, a dining room, an extra sitting room and a gourmet kitchen with two dishwashers. We're pretty much in love with the place and want to move in.  There is plenty of room to spread out for six introverted writers doing their own thing.
When we booked this place several months ago, I actually had no idea my mystery would be coming out on December 5th. Launching a book is a little bit like birthing a baby with a planned cesaeran section. You plan for it, you know it's coming, and yet you don't know exactly how things are going to go. I'm in that limbo of expectancy and uncertainty.
This has been a huge learning process for me. I wrote my first draft of Bound to Die back in 2010 for NaNoWriMo. My original impetus was to write the entire book without ever mentioning Court is trans male. I was going to have a few clues that would make it obvious to anyone who went looking, and I had Court 'passing' in his every day life.
After a few interviews with LEOs (Law Enforcement Officers), I learned there would be no way anyone could hide being trans in a police department–at least not from other cops.  Did you know cops are gossip hounds? They know everything about everyone, and there are all sorts of physical and health requirements for them to pass.
I won't get into all the various re-writes of Bound to Die or why it's taken me seven years to get the book into the world. I did not work consistently or evenly over those seven years. A year or two went by after my initial draft before I even looked at it. I spent two years in a genre fiction class/workshop situation re-writing the second draft. I ignored it entirely for almost a year after my beta readers marked it up with questions and concerns.  So, no, this was not seven years of contrated hard work. It was seven years of writerly indecision and poking.
As a writer I have learned a few things:
I work and write more efficiently with an outline. Of the 50,000 words I wrote for NaNoWriMo 2010,  about five thousand words have made it to the final version. I've re-written this book five times, each version better than the last.
I need to write faster. And edit faster. And do everything faster. Seven years is a long time.
I am a control freak, and I'd rather fewer people read the book I want to write than make huge compromises on the story or character. That doesn't mean I'm going to blindly ignore criticism and editorial advice, but I refuse to "make Court a regular guy to appeal more to the center of the country."  I didn't write "an issue" book on purpose. Court 'just happens' to be a trans guy doing his job.
I want absolutely no attention drawn to me while simultaneously wanting everyone to read–and LOVE–my work. The book is out to twenty+ advance readers who are tasked with reviewing the book. Soon, my entrails will be splayed open for everyone to see on the Amazon reviews. So much fun.
I had to get past the fact that my first book is not going to be my best book. It's good, but my next book will be even better. Cleansed By Fire, book two in this series, will be out in Fall of 2018. No way is it taking me seven years to get it out there.