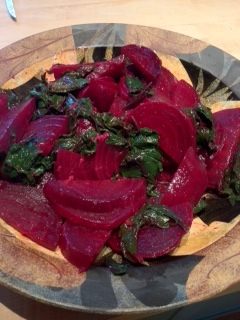 Here's another winner I had to share. It's from Madhur Jaffrey's "World Vegetarian." We've made about 30% of the recipes in the book, and I have yet to find any real bombs. Some need a little tweaking, but that's true for just about every cookbook.
3-4 beets with their greens
Dressing:
1/4 cup olive oil
2-4 teaspoons prepared horseradish
2-4 teaspoons red wine vinegar
1 clove garlic–mashed well
1/2- 1 tsp salt
Cut the greens off the beets, leaving a couple of inches of their stems in place. Trim the greens by just cutting off the stem where it meets the leaf. Set aside the greens. Put the beets in a pot big enough to cover with by three inches of water. Bring to a boil, reduce to a steady slow boil and cook until tender. Once cooked, set aside to cool until you can handle them. (They should still be warm.) Peel, cut in half and slice into 1/3 inch slices. (I keep disposable gloves in my kitchen for working with beets and hot peppers. They keep me stain free.)
While the beets are cooking, bring another pot of water to boil, add the greens (whole) and cook until they are softened. Mine were fresh from the garden and only took a few minutes. Drain and squeeze gently to remove excess water. At this point, I placed them on the cutting board and sliced them into thick 1″ribbons.
Put the greens and beets–all should still be rather warm–on a serving dish. Mix the dressing ingredients and pour over veggies. I did this around 4:00 and served it at room temp. It was a hit.
Next time, I will add more horseradish or maybe make some fresh. I used the ground prepped horseradish I made at Christmas, and I suspect it had lost a lot of potency. Also, taste it for salt, as I felt it needed a little more umph. Because beets vary in size, more or less dressing might be needed.
I adapted this recipe from one in this book: Madhur Jaffrey's World Vegetarian: More Than 650 Meatless Recipes from Around the World
If you are looking for a new veg cookbook, I highly recommend it. It's not vegan, but it has plenty of vegan options.