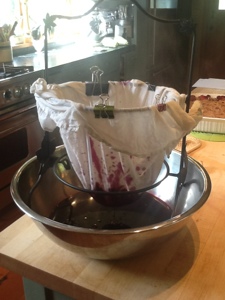 The blackberries along our fence are plentiful and ripe. My in-laws asked me if I would be willing to make blackberry jelly if they picked the blackberries. Given that the jelly making is the easy part of the process I agreed and they picked.
After getting the berries to a nice simmer, I set about to set up my jelly bag and hanger. It's a simple contraption consisting of a circle of metal with three legs that perch on top of a bowl. The jelly bag wraps over the top and you pour the hot cooked fruit juice and pulp into it and let it hang overnight. Using a cloth filter ensures a very clear and pulp free juice, and in the case of blackberries, a blissfully seed free confiture. I love the flavor of blackberries, but I don't care for their texture all that much.
When I couldn't find my jelly bag, I was stuck with the fact the berries were already cooking, and I needed to figure out what to do with the cooked mash soon. As I looked around my pantry, I found the Longaberger pie rack I had purchased years ago for my Longaberger pie dishes. I grabbed one of my cotton pie cloths and a bowl, rummaged around and found some binder clips to attach the cloth to the pie rack. Voila–substitute jelly hanger and bag. The pie rack seems more stable in the huge bowl than the purpose made jelly hanger. And, even better, pouring the fruit into the bag was easier as the opening is quite a bit wider. The only down side is that my pie cloth is now going to be stained purple–and this is not a tragedy to someone who owns a purple car and bathtub.
Objective completed! Tomorrow? I make the actual jelly.