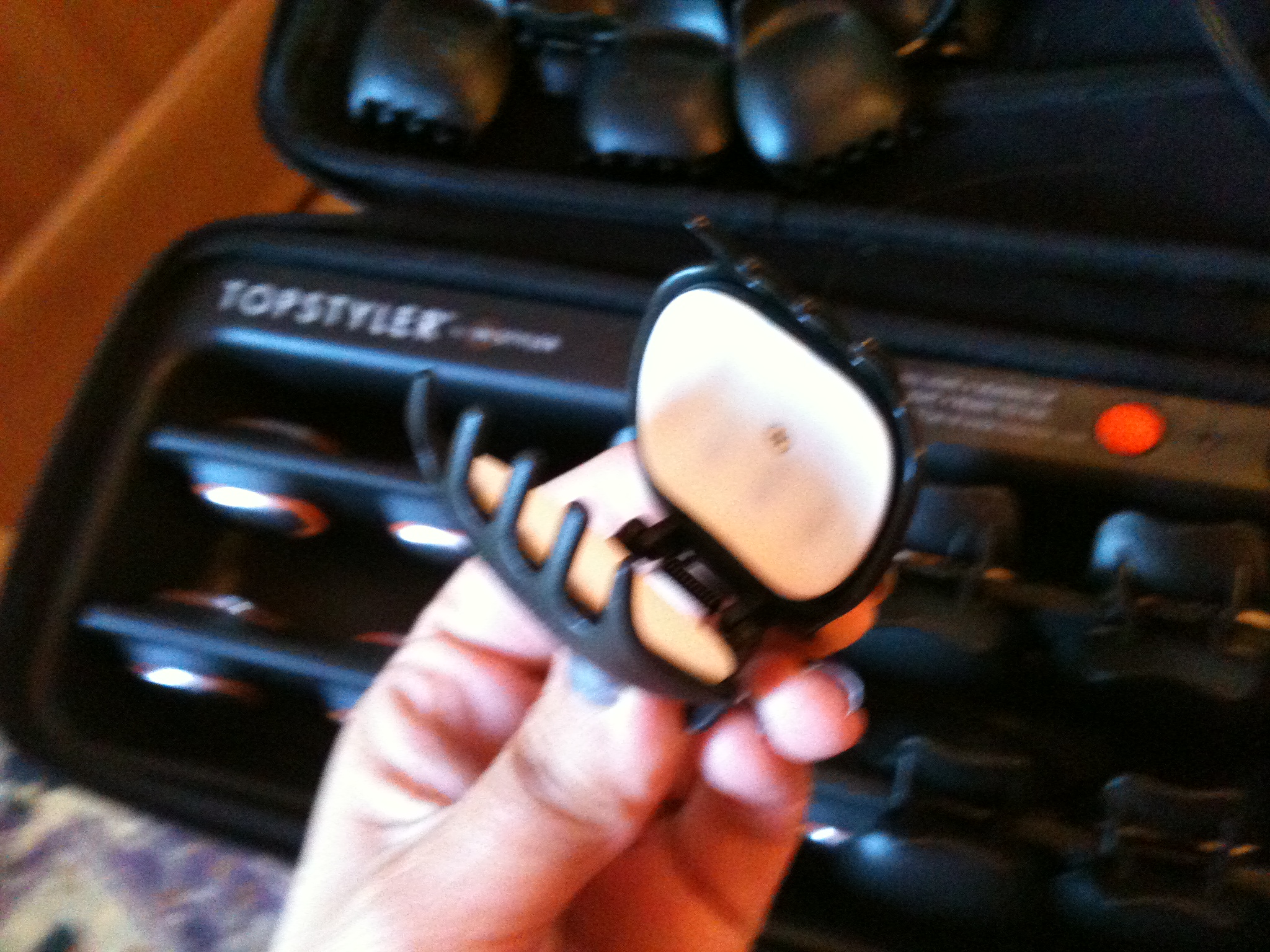 In August, we stopped in Spokane overnight on our way back from Montana and stayed at our usual hotel, the Red Lion Parkside. We've stayed there every trip Eastward for years because they have a decent pool, and we know how to find it from I-90. Since we don't get regular TV reception or cable in our house, we find ourselves glued to hotel television. It is through these intermittent exposures that we experience reality shows and infomercials. (This is changing a bit with my Hulu+/iPad addiction, but that's another post.) In the evening, we watched a couple of Animal Planet offerings about hoarding. It was one of those things where you think, "this is so disturbing, and yet I can't turn it off."
In the morning before checking out, I found myself landing on an infomercial for the "TopStyler" and watching it from start to finish. For someone with straight hair like mine, anything promising curls that last is…well…a fantasy and a dream come true. Okay, for someone like me who has always wanted CURLY hair, anyway. I don't have any idea how many perms I had in the 80's and 90's. I have velcro curlers, bobby-pins for pin curls, rag curls and foam curls. I have more than one curling iron and several round brushes. The search for easy lasting curly hair isn't exactly an obsession as much as a deep want. And I'm not greedy for perfectly tightly curled hair. Sometimes just a little body from a good brush and blow-dry is enough. But, there are times when I just want a different look.
I have plenty of friends who were born with naturally curled locks, and many have told me that they always wanted straight hair. They say that dealing with curls is a pain and finding anyone who can cut their hair without turning their profile into a triangular lampshade look is a feat not easily accomplished. My years with permed hair taught me that I don't really want tight curls that you can't even comb through.
So, when I saw this infomercial, I was totally taken up by the notion of easy curls–the kind that are large and flowing and touchable. I almost dialed the 1-800 number from the hotel room. But, I didn't. Instead, I calmed down and decided to do some research before jumping in with the credit card. I remembered being impressed by the "Smooth Away" hair removal ads only to read enough reviews to keep me from trying it. I was so taken with the promise of what the Topstyler would do, though, that when I got home, I jumped on the computer and did some research. The reviews were mixed, but leaned more toward the positive. So, yeah, I eventually took the plunge and bought it.
And then I waited for it to show up. And waited. And waited. I got a post card in the mail saying how sorry they were, but due to the high demand it would be another couple of weeks before shipping. So, I waited some more. Then, I got a phone call that I wasn't going to answer, but the damn number had been popping up daily for the previous two weeks, and I was ready to give some fund-raiser a word or two. It was the folks at the TopStyler wanting to confirm my address. Right. They also wanted to try to sell me some deal or other that only cost me $9.99 per month for special coupons and discounts. No, thank you. Just send me my friggin' curls, will you?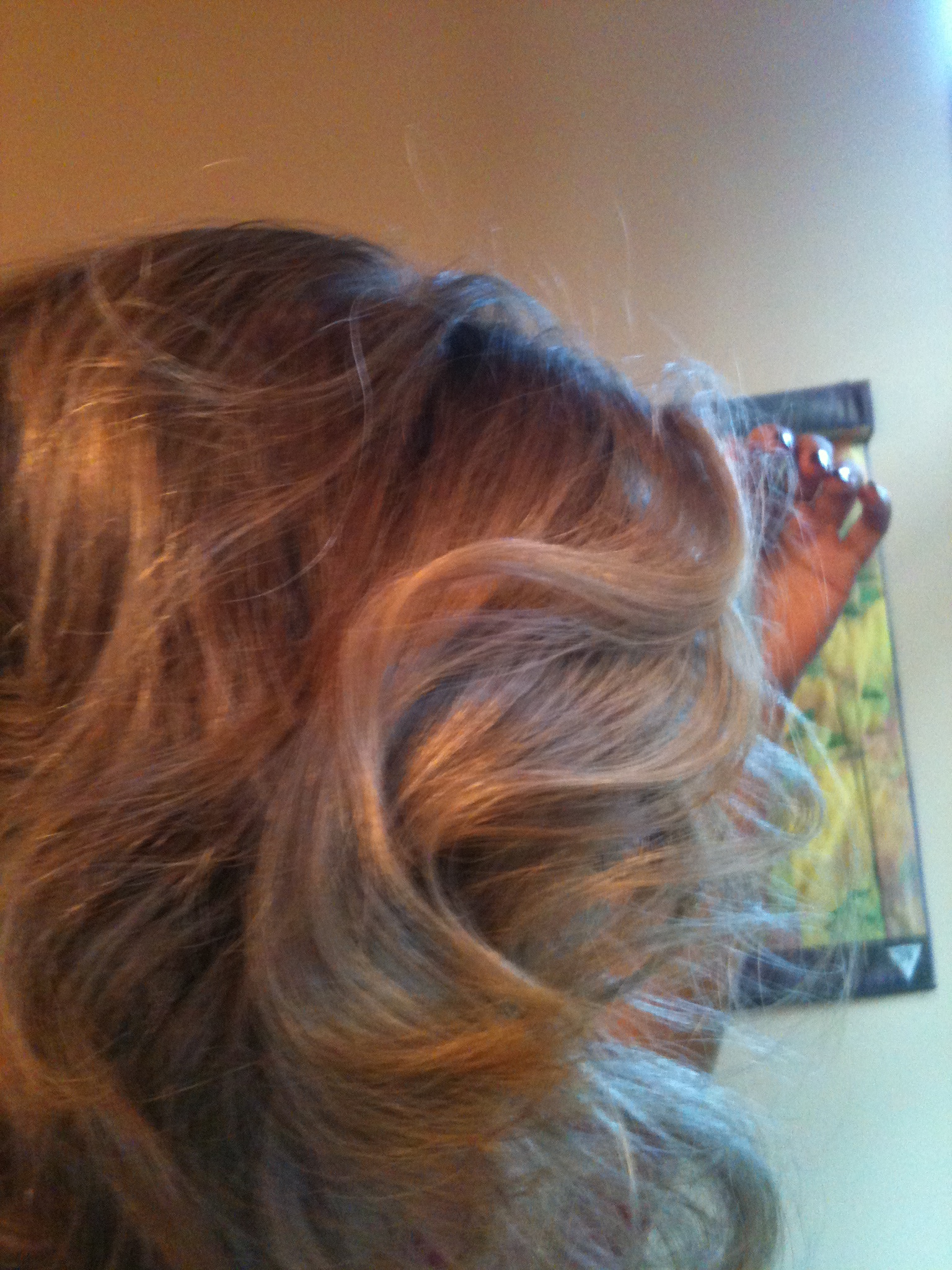 Finally, after eight weeks, the box with my Topstyler arrived. I've used it a couple of times to get some pretty decent results. This photo shows a "larger" pin curl version and the sort of larger curl I've always wanted. It's not something I want to do every day–it takes about ten minutes to wrap my hair around my fingers and put the clips on and another ten or more to let it 'set.' I put a bunch of smaller ones in and got a frizzy mess, so it's not fool-proof nor is it perfect, but it's kind of fun to play with.
Is it worth it though? Knowing what I know now, I'd probably not order it again. Why? Well, the Topstyler sales system is set up so that you can not order just one unit. There is no choice in this, it's buy one, get one free. I would much rather have spent half the price and gotten one unit rather than the two. It's bizarre. I think maybe people can get together and buy the package and split them up. Fortunately, there's a seventeen-year-old head in this house that can enjoy some curls occasionally. It doesn't work nearly as well on her waist long locks as it does on my shoulder-length hair, but she gets some body out of it. The other reason I wouldn't buy it again is there's just something sort of…embarrassing about the whole thing. I was trained in advertising. I used to write copy to sell things. A part of me knew, even as I was watching the infomercial, just what words and tricks they were using to call deep down into my curl-starved soul.