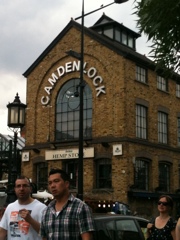 I'd heard of Camden Market, but never come before. When I was here as a student, we had zone 1 tube passes, and the market is in zone 2. Also, I didn't really have much money or free time to spend, and I tended toward spending time in the theaters when I was free. (I saw at least 35 shows during my three month stint, all at a reasonable student price.)
We got into London from our driving trip around 2:00, checked into our hotel and dropped off the car about twenty feet from a tube station. We headed straight for the market with legendary food stalls and vendors of all kinds. For my Seattle friends, you can take Folk Life and Pike Place Market mix them up triple them in size, add in some goth influence, cut back on the live entertainment and make it more international and British at the same time to get a good picture. As they say a picture is worth a thousand words…so here are a few thousand words in graphics.
Reda, the Lebanese falafel god makes the tastiest falafel wrap ever. I had to chat him up big time to reveal his secret spice blend. I'm going to have to mess with it a bit because he didn't give me any ratios.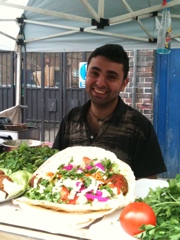 The stores along the street have phenomenal decorations.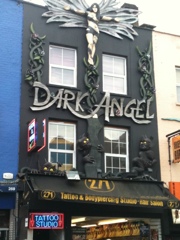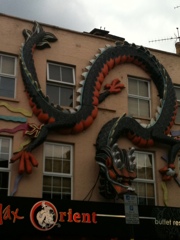 Tons of food choices….and interesting seats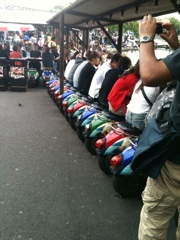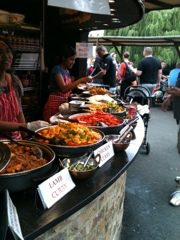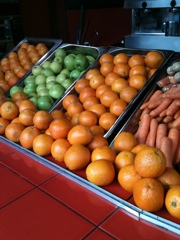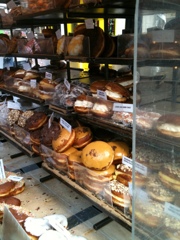 Pedicure, anyone? The fish nibble at your skin to remove dead skin. (and no, we didn't do this.)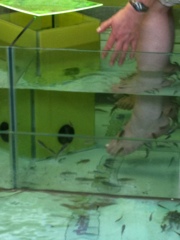 This guy cut the fresh coconut open for us and splashed his face in the process. He launched into a little spiel about the benefits of coconut water on your skin.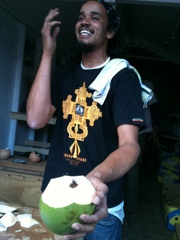 My 8 year old decided chicken kebab looked good for dinner.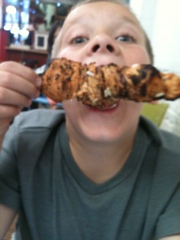 The down-side to returning as the market closes–sardine time. (Tip: waiting through another train or two during a backup clears up most jams.)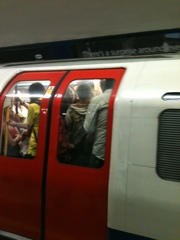 And my 16 YO is looking a bit annoyed that I'm taking yet another picture in public.