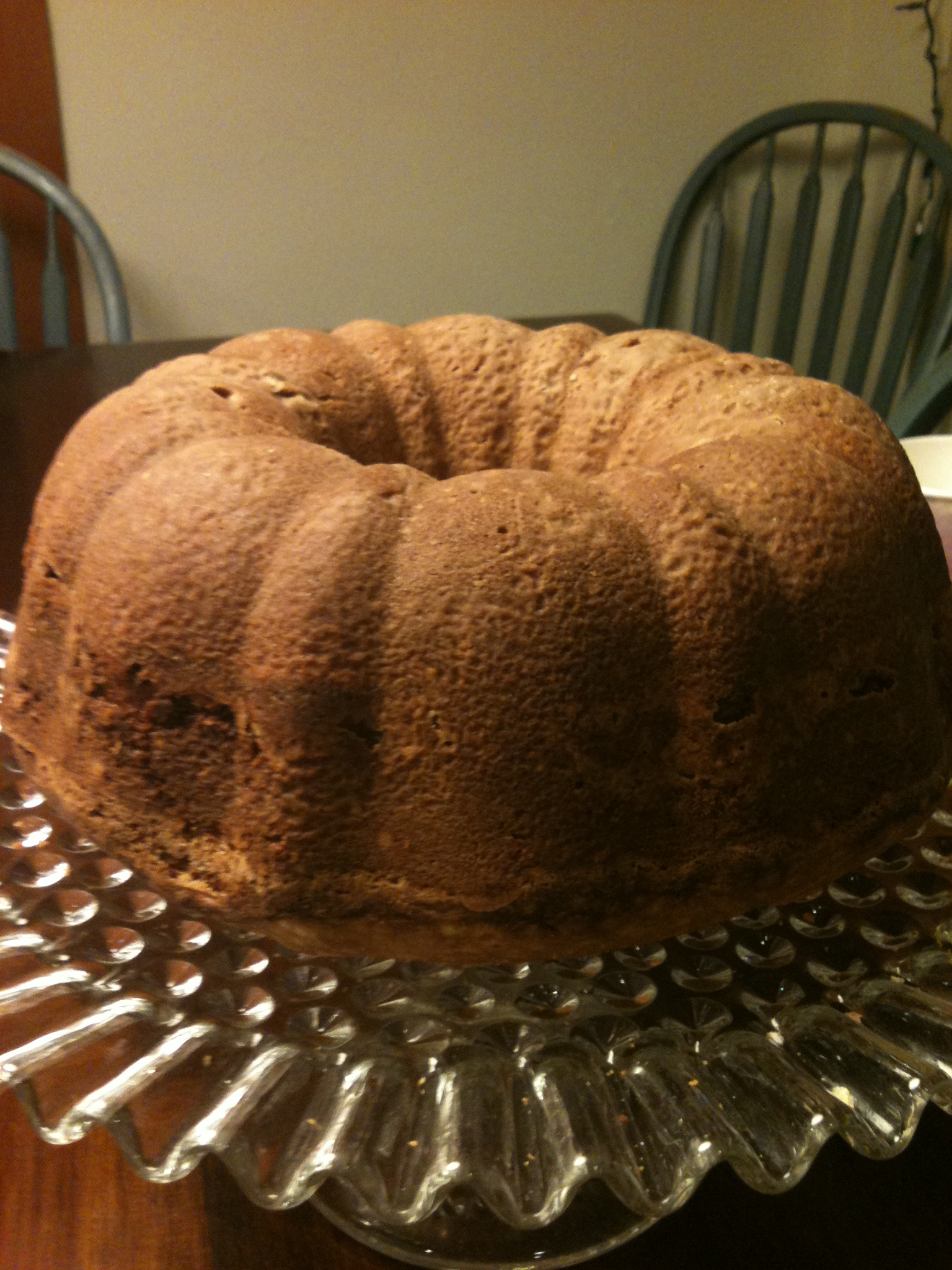 I love it when I encounter something new in the kitchen. The title pretty much says it all, but I had never heard of putting a cake into an oven without preheating it before. I've made a lot of cakes, too.
When we get together with friends for New Year's Day dinner, we are usually tasked with bringing the main course and dessert. (This just goes to show you how I sometimes start a post and then totally forget it in draft form.) Our hosts provide grits casserole, corn pudding, greens and hopping John…so you can probably guess the theme is "southern." I was on a quest for an easy-yet-yummy-sort-of-Southern dessert, when my husband reminded me that our friend had been posting pictures on Facebook of a pretty amazing sounding and looking pound cake. I glomped onto it as it only has a few ingredients. I read the list and made sure I had the ingredients out to room temperature before I even skimmed the whole recipe.
When I was about to start baking, I took a moment to read the recipe from start to finish before cracking an egg. This is a good idea with any new recipe, and it saved me from maybe ruining the cake in this case. The direction to NOT pre-heat the oven had me looking at it several times wondering if there was a mistake. I read it over, and decided that this must be some new cool trick.
I put together the cake according to the instructions and popped into the cold oven as directed. It turned out to be a rich and dense pound cake–almost creamy. It was definitely something between a 'regular' cake and a cheesecake, neither one exactly, but something in between the two. The husband would have preferred it without the optional pecan, sugar and cinnamon mix in the middle, but I thought the pecans added a nice southern touch.
I resolved to do a bit of research on the cold oven thing. None of us had ever come across it before, and when you think about the cooks at the party, it was sort of surprising. A google search on "cold-oven pound cake" or "Cold oven cake" brings up plenty of hits. Cooks.com alone has ten pages of cold oven pound cakes. If you go looking for it, it's easy to find. It does seem to pertain specifically to pound cakes–not something I make with great regularity. The recipe that follows is pictured at the top of the page.
Dot Tynes' Cream Cheese Pound Cake
(Used with permission here by Karen Blackwell Tynes)
( Spray bundt pan with Pam and flour, or use the Bakers Spray. Also eggs, butter, cream cheese must be at room temperature)
3 cups sugar
1 8oz pkg cream cheese
3 sticks butter( if you use unsalted butter, add ½ teaspoon salt)
( BUTTER, not margarine)
6 beaten whole eggs
1 tsp. Vanilla
3 cups Cake Flour ( honestly most of the time I use All purpose, but whip the flour with a whisk first)
Cream sugar, butter & cream cheese for 10 minutes.
Beat and add eggs one by one
Add vanilla, beat well
Add flour in small batches, beating after each one
Pour batter in bundt pan. I have also divided this up into three loaf break pans.
Place in a cold oven, set to 300°, bake ~1 ½ hours. Let cool for ten minutes, then turn out of pan while still hot.
Mom Tynes liked to pour in half the dough, then sprinkle a cinnamon sugar mixture with a few pecans.
2 T Sugar
1 teaspoon cinnamon
¼ cup chopped pecans