Last week we had the chance to visit the musée D'Orsay. I've been musing on one of our interactions with a French family ever since. A father with three children came up to us because we were obviously visitors and asked if he could speak with us for a minute. His kids appeared to be aged about ten to 17 or so. He asked,"Where are you from?" After we told him he said, "Would you tell my son why you are here? We live in Paris, but he doesn't have any interest in what is right here." He turned to his son and said,"See! These people came all the way from Seattle to be here, and you don't even want to ride the metro a few stops to get here."
The father was clearly trying to make a point, and I didn't have enough time to really stop and think through a response that would address the father's obvious frustration and convey a sense of respect for the teenager. He looked friendly enough but rather embarrassed by a father who is willing to walk up to complete strangers and talk about his lack of interest in his own culture.
After Emma and I chimed in with what it was we were enjoying about the d'Orsay in particular, we added what else we had seen and why we had enjoyed it. We mentioned that it is just different, too. Let's face it, if you put the Space Needle next to the Eiffel Tower for a side by side comparison, the Paris landmark is going to kick Seattle's ass. Don't get me wrong, I love Seattle, but it is not Paris. It's hard to beat the immenseness of the ancient city on any number of levels. Just think of the quick list just about anyone can make about Paris–Eiffel Tower, Notre Dame, Jardin de Luxembourg, Sacre Coeur, le Louvre. Also, there is l'Orangerie–home to Monet's famous enormous Water Lillies. Last time I was here with my mom, the Orangerie was closed for renovations, and the time before that I was only 16 and had no clue. Which sort of brings me back to this poor young man who seemed utterly bored and not at all interested in the lesson his father wanted us to teach him. I felt bad for the teen, though. Here he was being displayed in front of complete strangers in his second language. I said something to the effect thaf we don't always appreciate what is in our own back yard. After all, we were in France not Seattle.
It's always easier to think of an appropriate response after an interaction, and I would have preferred it if I could have engaged the teen a bit more directly and found some common ground with him rather than ending up being someone jumping on his dad's bandwagon of cultural pontification. I am guessing that the overall interaction only embarrassed the teen without making much headway with the father's agenda.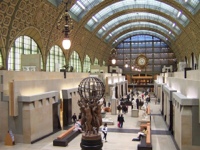 However, this got me to thinking about my own back yard for a bit. I am not particularly home sick because I am still enjoying my trip, but I think it is a valuable exercise to think through the things that I can appreciate about my own place in the world.
I know I just sort of dissed the space Needle, but it is certainly one of the Seattle landmarks that I take visitors to see. We often go to the Locks–especially if the salmon are running. The Zoo, aquarium, the troll, SAM, Boeing, EMP, Seattle Center, and Gasworks Park are all on my offering list. We love Pike Place Market, and we don't always wait for visitors to get down there. After living in Seattle for almost 23 years, I finally saw the "gum wall." I don't think this particularly stinky globular and hideous bit of art is that old, but I hadn't been in that alley since the days when we went to see a friend who was a regular in Theater Sports. The last time I was there, I was focusing on the disturbed naked man being escorted away by the police. I don't think I would have even noticed the gum had it been there at the time.
So folks, I would like you to share where you take your visitors–and why if you are so inclined. It's not necessary to keep it Seattle bound–might as well enjoy the larger discussion of what is not to be missed wherever you live.