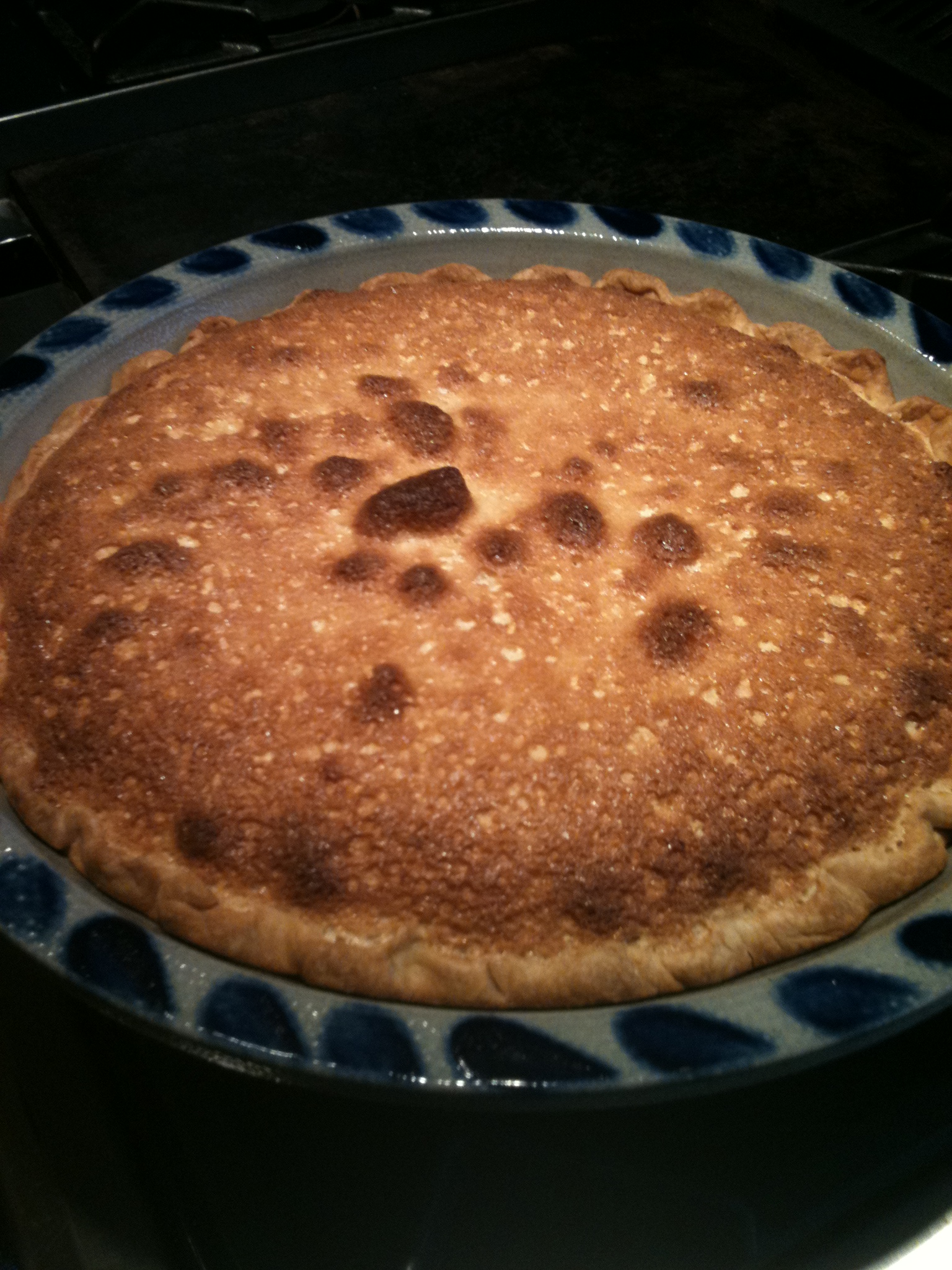 We celebrate Thanksgiving with my in-laws and one set of very close friends. We've been doing this same general family grouping for the last ten to fifteen years, and there are some slight modification depending on whose parents are visiting. My mom used to come up every year until she died, and her absence has been sorely felt each year since.
On Monday, I had just about the same conversation I have had every year. I begin with the question, "Are you bringing your usual?" To which the answer is a "yes" with a brief listing of the side dishes that are being made. I cook the turkey, a white-bread dressing and mashed potatoes. This list doesn't change, and, in fact, hold just enough interest to get me to the real point of the discussion. "And what kind of pie are you going to make?"
This last is the crucial part of the entire conversation and points to what Thanksgiving is really all about. Yeah, we cook the turkey, and it's yummy and all that, but it's the pie, people. The pie. So, our friends are making apple, cherry and 'something else.' I'm making pecan and called dibs on 'something lemon.' My mother-in-law will be making pumpkin, mince, shoe-fly and 'moji' pie. (This last one is probably not spelled right, but I'll let her comment on that herself. I think it is derived from PA Dutch for candy pie, or something like that.)
Then, I took the lemon question to the family. Lemon sponge, Lemon Meringue, or Shaker? Meringue was quickly defeated by both husband and son. We were left with everyone wanting both the other two. Normally, this would not be a problem, but I like as little overlap in the pie selection as possible. You'll note that I did not say ten pies for ten people would be too much. This is an entirely different sort of criteria.
Most people have never heard of lemon sponge pie. I know I hadn't until I married into a pie-crazed family and started looking up various recipes to widen my own pie-making repertoire. It's like a lemon cream pie with a thin layer of lemon sponge cake on top. It's an understated pie, and it's not particularly beautiful–as you can see by the picture at the top. But, it is simply heaven in the mouth. (If you like lemon.) It's not as intense as a shaker pie, but sweeter and creamier.
Given that lemon sponge is less forgiving on a second day, I decided to compromise and make a lemon sponge for dessert last night and start the Shaker for Thanksgiving. It takes 24 hours to let the lemons soak in sugar, and the pie itself is just as tasty two or three days out. Next blog, I'll put up a step-by-step for making a Shaker lemon pie because it's just so yummy it needs to be shared.
The lemon sponge pie we had last night might possibly be the best one I have ever made. It was extra creamy and delicious on the bottom. My kids each had two slices, and there were no leftovers.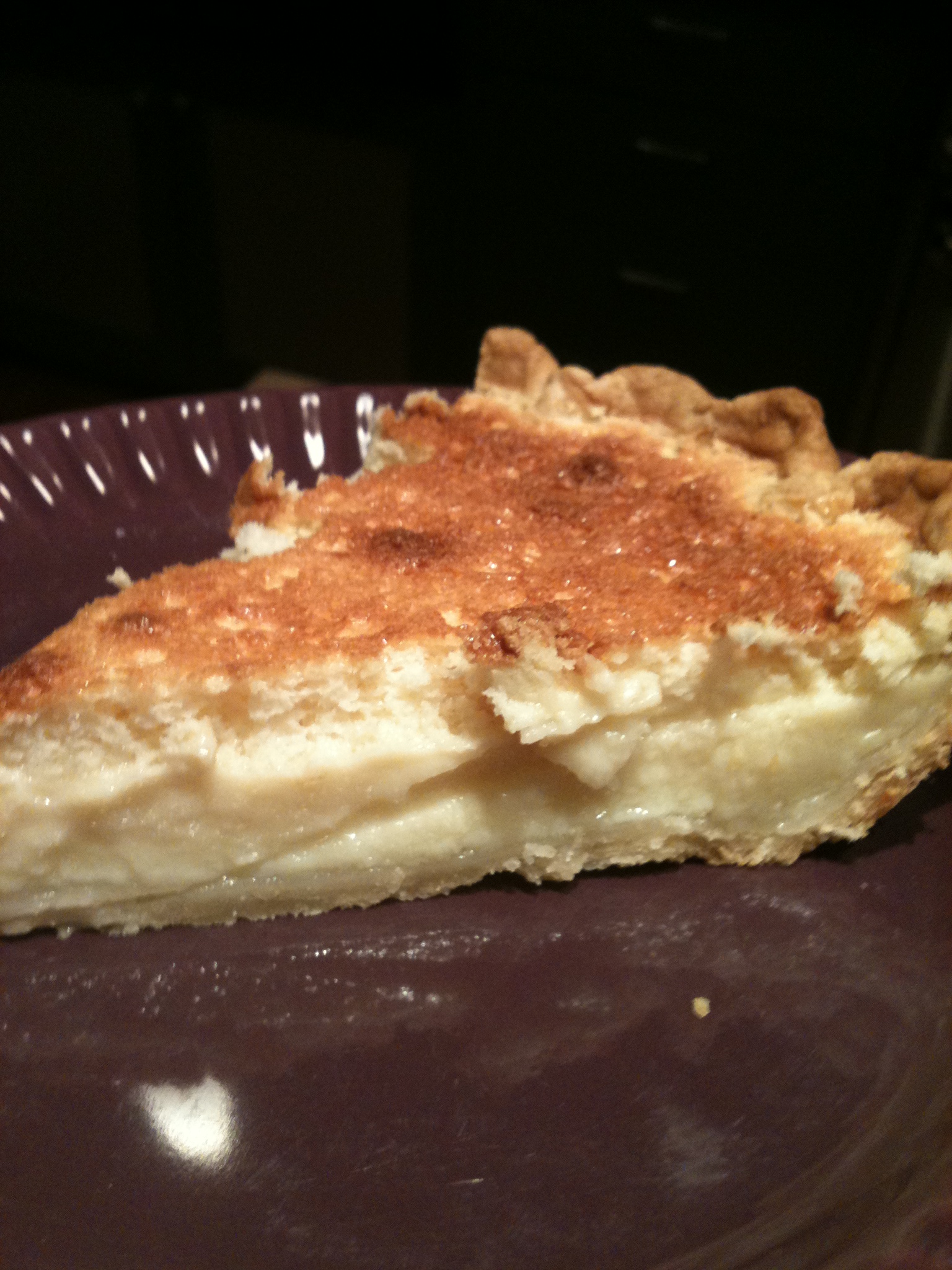 Lemon Sponge Pie
1 Cup sugar
2 Tbsp. butter
3 eggs, separated at room temp
1/2 tsp salt
juice and grated rind of one lemon (large, or 2 small)
1 1/2 cups hot water or milk (I used 3/4 C soy creamer and 3/4 soy milk)
one unbaked pie shell
Cream butter and sugar. Add yolks and beat well. Add flour, salt, lemon juice and rind. Add hot water/milk. Fold in stiffly beaten egg whites. Pour into unbaked shell and bake at 325 for 45-50 minutes. Should be brown on top and will still look a little wobbly. Set to cool at room temp and serve when cool.