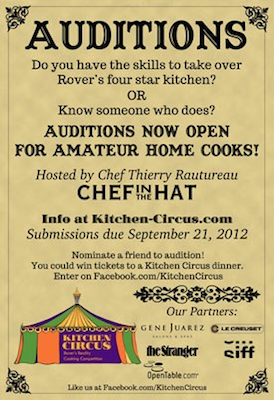 Anyone who knows me or has read this blog knows I have a little bit of a "thing" for food. Obsession might be going overboard, but not by far. The family was out for brunch last week at The Harvest Vine, and we noticed the flyer for the Kitchen Circus up in the window. I had a vague recollection about Chef Thierry talking about it on KUOW a couple of weeks ago, but things I hear when I am driving largely get lost between where I am and my garage. It wasn't until Tuesday that I remembered to look at the details, buoyed by my rather cherubic and positive ten year old cheering me into action.
I hadn't realized the deadline was only a couple of days away, so I got onto facebook and did a search for Kitchen Circus. Voila, the rules and how to apply were all right on the screen before me. I filled in the paperwork and was told to get my video application in by midnight, Friday.
Now, I don't know about you, but I don't exactly have a ton of experience putting together audition videos. Once again, my ten year old came to my aid with our little flip video camera. He held it while I managed to string together a few sentences that seemed coherent. The directions said to include showing me cooking in my kitchen. So,we filmed me cooking a regular weeknight dinner. I roasted some cherry tomatoes in the oven with garlic, tossed those with some pasta and added a ton of arugula. Only a little bit ended up on the floor as I tossed it in the pan. Unfortunately, even with cutting, the video was too long.
The next day, I put moviemaker to use and edited out all the cooking bits, put a voice over on the time lapse I made for this blog post, put it all together with my talking and sent it off. Moviemaker is a pain to work with, probably made more so by the fact I had never used it before.
I made it past the first level and into the group of 18 contestants that were invited to Rover's for "live auditions." The email that I got letting me know I had made it, came with some basic instructions about what to wear (no patterns?!?). Then, I googled "what to wear on television." Big mistake. I went into a clothing panic. Anyone who pays attention to such things can probably guess why. There is nothing but prints, black and white, and more prints in my closet. I spent half the day yesterday with a personal shopper at Nordstrom's looking for a blouse or a shirt or dress without any prints–preferably in a pastel, v-neck or low cut (well, I had to have some of 'me' in the clothing) that didn't just look like a potato sack. We finally settled on a lovely emerald green silk blouse with awesome jeans after deciding that pastels, no matter how 'perfect' they are on camera, would simply never work for me. (Besides, have you ever found a pastel anything in Seattle in September?)
Today, I managed to get myself dressed (without getting food, make-up or drink on the new blouse), out the door, and across the bridge in plenty of time for my audition at Rover's.
The other thing they said in the email is "Be prepared to answer questions from Chef while preparing some food (his choice)." This sort of had me wondering. Would I walk into a professional kitchen and be asked to…I don't know…saute something? They couldn't really expect me as a home cook to walk in and whip up a beurre blanc off the top of my head, could they? I had mentioned a preference for baking, would they ask me to prove it by whipping up a souffle?
I was having more than a little flutter of nerves as I approached the restaurant until I saw someone leaving with a smile on her face. I called out to her, "Are you here for the Kitchen Circus?" She nodded and said, "Yeah, it was a lot of fun. Good luck!" Enough to make my nerves dissipate and send me inside with a smile on my face ready to see what would happen next.
I was met by kind people who ushered me in for paperwork, head-shots, mini-interviews and chats before the actual audition with Chef Thierry. I was pleasantly surprised that I had done the task he wanted to see many hundreds of times before. The only difference was I had a mike on my collar, a camera pointed at me, and one of Seattle's most renowned chefs asking me how I would prepare salmon for 45 people–to be plated and served all at once. "Sure," I assure him, "I can handle that." Why not? It will be fun! It'll be a circus of fun.
If you want to be a judge by dining during the circus, click this link and like the page on Facebook to get updates for when tickets go on sale. (Open reservations begin October 3rd.) They are offering special advance VIP reservations for various prices ($300, $500 and more) up until the public seating opens. These VIP seats include behind the scenes look in the kitchen and meeting the contestants and can be made by calling Rover's with the code VIP-KC.
Update: I didn't make it to the final nine, but it wasn't for lack of trying. 🙂 C'est la vie! I can't say I'm terribly disappointed. A little bummed, perhaps, but the fact that I actually got it together to send in a video and then made the auditions had me buzzing happily.